Therapist in Aix en Provence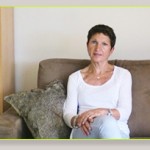 Having started my professional life as a teacher, I then worked as a counsellor in an association providing help to battered wives and victims of stressful family situations. During this time I discovered and was deeply impressed by the works of Carl Rogers (who developped the Person-Centred Appoach to psychotherapy) and took a professionnal training course with ACP FORMATIONS in Paris.
Carl Rogers humanistic approach  places trust in the individual to resolve their conflicts and believes in their capacity for self understanding and change.
In this process the clients experience the changes occurring in themselves. The therapist's only aim is to help them discover their potential, their real inner self beyond the external façade and beyond the « I ought to » and judgements of others.

  My work is supervised and I am associated with a group of peers to strengthen and develop my practice.
You can contact me by phone or e-mail, click here